Offer Your Guests a Long Lasting Wedding Memento
Events
March 16, 2016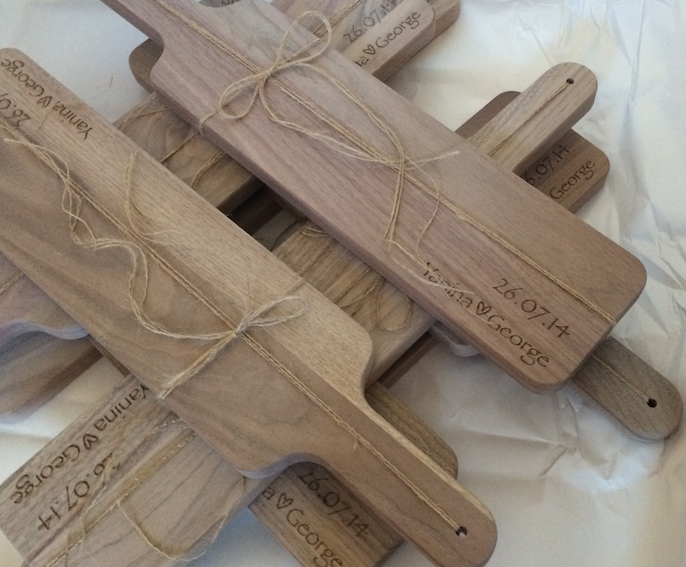 With wedding era approaching, many brides and grooms-to-be are racking their brains for unique personalized favors for those dear to them to commemorate the occasion of their wedding. It's a tall order to find something of quality, which everyone will appreciate and use, and yet fit into all budgets. If you're looking for a memorable favor to offer, why not consider a personalized wooden cutting board?
Choose a convenient gift

Wooden cutting boards make a convenient and adequate gift. Everyone needs a cutting board, whether it's for the kitchen or the bar or even just to hang on the wall. So a tastefully engraved cutting board made from natural woods would make a great present for each and every one of your loved ones.

Make it unique with engraving

Cutting Boards USA are the go-to business to supply you with these charming and unique wedding favors. With a low minimum of only twenty five boards, you can chose your own words, such as your initials and wedding date, and images laser engraved on each one. The precision engraving brings out every detail of your chosen design.

Select a gift to your image

Wholesale cutting boards come in a choice of three all-American woods: maple, walnut and cherry. Each board is designed to last a lifetime – just like your marriage. Furthermore, there is a large selection of cutting board styles to choose from, from a simple bread serving board, to the highly appropriate heart shape. It is also possible to custom manufacture other wood products to your requirements.

Memories that last through time…

For a memento which will last through time, which will bring a warm souvenir to the heart every time it's used, and which will reflect your true love in a dignified and elegant way, a customized wooden cutting board is the ideal favor for a memorable wedding.