Custom design wood cutting boards
Are you a gift shop owner, specialty retailer or a designer looking for a custom designed wood cutting board (or other custom wood product), tell us about your design and give us the details of your requirements. If you have a picture or a technical drawing of the cutting board that could really help us understand your vision, but it's not a requirement. Just give us the measurement and other details in the design details section below and we'll give you a quote.
Custom laser engraving
Custom laser engraving is available! If custom laser engraving is one of your requirements, you will be prompted in step 5 to upload an image file or provide the engraving instructions.
a7c9eb9f-e8fa-4256-85ad-b0e8bad6ef8e
75ae92c0-d1f6-47d6-9cf9-32e9ceb3490f
Upload your cutting board design or give us the details
Upload your file:
Specifications:
Accepted formats: Illustrator file, eps, jpg, png.
File size: max 2MB
Design details for the cutting board:
Name*:
Phone*:
E-mail*:
Company:
Continue
Height: Width: Depth:
Continue

Maple

Walnut
Continue
Select Quantity
*You need to order a minimum of 50 boards.
Continue
Do you want laser engraving?
No Yes
Specifications:
Accepted formats: jpg, png, ai, eps
File size: max 2MB
Resolution: 150dpi min.
Upload your file:
Logo size on the board (approx.): Height: Width:
Logo position on the board :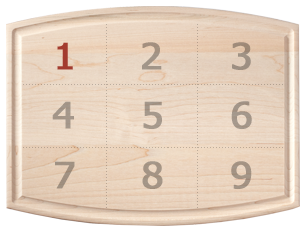 Request a quote
Food for thought
Here are a few novelty cutting board design shapes that we have produced in the past and are being used in kitchens around the US right now:
Animal shaped cutting boards such as a cow, sheep, moose, dog, pig, and the list goes on.
US map and states shaped cutting boards (Texas, Vermont, Michigan, New York and others), or of other countries of the world.
Novelty cutting boards shaped after a wine bottle, football, puzzle piece(s) or anything you can think of.
Working together is easy
You'll be the one who will give, sell, use and most of all love the products we manufacture. Benefit from our expertise and knowledge of custom wood products, and grant us the opportunity to convey your vision. Don't settle for a stock board when you can take it to the next level at a similar price.
At AIM Custom Wood Products & Laser Engraving, we believe everyone has their specific needs and priorities, and that your products should reflect your individuality.
Creating your own custom cutting board design is really easy with AIM Wood Products & Laser Engraving. Just follow the steps in the form above and help us better capture what you have in mind. Leave us your contact information, and we'll get back to you shortly.